| August 18th, 2009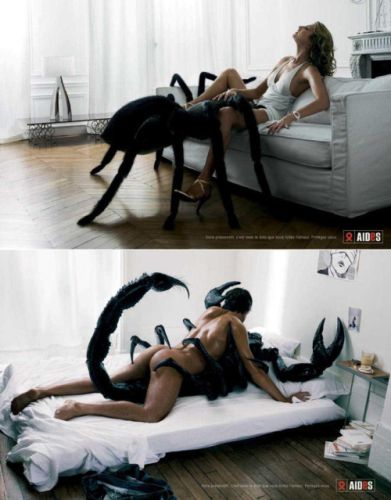 As I was glancing through some of the news from France recently and looking for some of the latest travel deals to France, I was absolutely stopped in my tracks and distracted from my search for cheap international flights when I stumbled upon a poster for the new French anti-AIDS campaign.
Now, don't get me wrong, I'm all about promoting AIDS awareness and spending money to educate people on safe-sex practices, but that does not mean I want to see posters strewn about Paris that pictures a man walking a condom on a leash. Maybe it's just me, but there is just something, je ne sais quoi, wrong with the whole image. After seeing this new campaign relating condoms to dogs (which reads "man's best friend") I couldn't help but be left thinking "really? That's the best you could come up with?"
As I looked at this strange cartoon of a man taking his, um, dog?, out for a walk, I couldn't help but wonder if the brains' behind this brilliant ad campaign had ever come up with anything equally strange in the past. For those who have traveled to France or even seen enough French films, you know that the French have an interesting, sometimes even strange seeming, sense of humor and flare for the dramatic. They also tend to have a much more relaxed attitude towards sex in the mainstream media than here in the U.S., which can explain another delightful ad promoting safe sex I found.
These anti SIDA (AIDS en francais) show men and woman engaged in sex acts with poisonous creatures-namely a giant scorpion and a giant tarantula. Apparently, according to this French AIDS awareness campaign, having unprotected sex is like having a gigantic arachnid perform cunnilingus on you, or mounting a spread-eagled scorpion in the missionary position, its poison-dripping tail wildly thrashing about in the throes of its ecstasy. The copy reads, "Without protection, you are making love to AIDS. Protect yourself."
So in other words, if you're going to get eaten out by a giant spider, it would behoove you to make it wears a condom. Makes perfect sense. Just like it makes perfect sense to take your condom out for a walk, right?
Strange French AIDS prevention campaigns aside, I am still dreaming of scoring a great deal on a cheap flight to Paris and heading to my favorite city this fall or winter (and maybe trying to hunt down some of these truly bizarre ads myself). In fact, fall is my favorite season to visit France. With plenty of great festivals— like Nuit Blanche in Paris, the annual celebration for Beaujolais Nouveau and grape harvest festivals around the country—there is certainly plenty to do and see in France during the autumn months.
One of many great Paris travel tips is to head to the City of Lights after the summer vacances in the autumn. Especially since Parisians have reclaimed Paris in the fall (almost the whole city goes on vacation during the month of August), you are probably more likely to find shops and museums open as well as spot more Paris locals out and about.
Also, in addition to having lots of festivals and great events during the fall, many of the tourists that descended on France during the busy summer months have left, meaning lower rates at hotels, hostels and attractions and fewer crowds. The weather in France during the autumn months also tends to be beautiful, albeit a little on the brisk side, but the skies tend to be clear in the early fall months and temperatures are still mild and pleasant in the south of France.